Two Years – by Pastor Kimby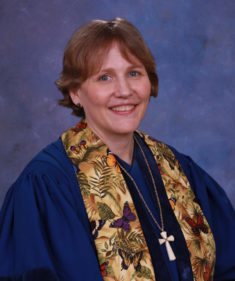 In some ways it feels like I just got here. In other ways I think I have known you most of my life. This month marks two years for me as your pastor at First Presbyterian Church of Gardner. I have listened to some of your stories. I have mourned a few of your losses. I have celebrated many of your triumphs. I begin to imagine what your future might hold as we journey forward together. Honestly, your hopes and dreams are beautiful and bountiful. God's work among you is gracious and glorious. As each day passes I appreciate more all that you are, and I give thanks again to God for bringing us together. I ask God's blessing again as we journey forward together.
That way forward is filled with possibilities. As your leaders talk about what we shall do next and make plans for the next year or two or ten, so many paths open before us. Part of the challenge is choosing a path and focusing our resources toward that goal. At the beginning of 2017, your session held a planning retreat in which we identified "growth" as our number one goal. This year, all through the year, we have been talking, listening, asking, dreaming, thinking, researching and praying about that goal of growth to God's glory. In January of 2018, the session including new officers who come on board, will hold another planning retreat in which we shape these imaginings into concrete realities of programming and ministry. Part of our decisions will, of course, be based on our budget and the results of the stewardship campaign going on right now. We will choose how to allocate our resources and where to focus our energies.
I thought I would "let you in" on a few of the ideas we are currently imagining and the resources needed to bring them to fruition. Here are just three of our "dreams." These are not in order of priority, only in order of memory as I begin writing. I welcome your feedback or input on any of these, or on any other ideas and inspirations you might have.
Add a Worship service –
Worship Pillar will be considering how best to expand our worship experiences. We will research whether to return to two Sunday morning services or to add an evening worship service. Either option would require funding for additional music (existing staff or new staff). We would also anticipate additional expenses for supplies and for audio visual equipment.
Add programming or staff for young adult ministry –
To serve our currently attending adults under 40 and to attract new participants, we are discussing a wide variety of possibilities. We have been in conversation with the Presbytery and national PCUSA offices about funding grants. The most attractive idea is hiring an intern to work with young adults. If we can raise $7500 on a local level, that could be matched on the national level, in order to hire an intern in young adult ministry. The ministry we might design is still undefined. Initially the intern would be involved in a mission of contact and communication in order to determine what might be useful programming for young adults in our area. That research might lead to worship, fellowship, service, and discipleship ministries, or to other ministries we have not yet even imagined.
Add mission and service opportunities –
Building on the good ministry of the Joy Closet, we imagine adding other hands on opportunities for concrete care. We have discussed using the Joy Closet as a base for reaching those in need. That might be through teaching life skills classes – parenting, finances, job search, health and other topics. It might be preparing meals to serve to feed the hungry. It might be addressing homelessness in Gardner. Research shows that young adults are highly motivated by service to the community and concrete ways of making a difference in the world. So enhancing the Joy Closet ministries could be a part of our young adult ministry. A larger facility for the Joy Closet is the primary financial need.
Obviously, we may not be able to bring about any of these ministry dreams. Or we may be able to accomplish all of them and more. My invitation to you in the months ahead, is to pray about these dreams, pray about the future of First Presbyterian Church of Gardner, pray for your leadership, and pray about your own participation. By God's grace we will move forward in faith. May God bless the journey before us and the ministry we share along the way.