Festival on the Trails – Cooling Station – Help Needed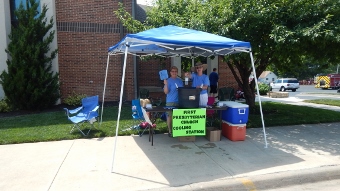 One of our best Outreach initiatives of the year to get the word out about our congregation is the cooling station we offer on our property during the Festival on the Trails. We give free water and fans to anyone who asks.  We attach a small sticker to the water bottles with our name.  The fans have the church picture and service time on them. Last year we gave out over 600 bottles of water and lots of fans.
You can help in four ways.
1) You may help prepare the water bottles by adding a sticker at a gathering on Thursday, June 8, at 6:30 p.m.
2) You may volunteer for a shift at the station on festival Saturday – this year June 10.
3) You may donate water bottles – bring them to church and add them to the stack in the entryway.
4) You may donate money to be used to purchase more water or ice. All donations are welcome.
This is an event sponsored by the Mission Pillar. The crafts and entertainment events are located on the street next to the church. This year we will have a large water container to put donations in. Our goal is contributing to a well in Kenya.
The signup sheet is located in the Narthex, or contact Tracy McCabe.