Seasons Turning – by Pastor Kimby Young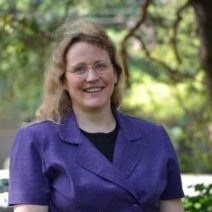 There's something in the air – and I'm not just talking about allergy season. April is full of signs of the changing seasons. Spring is upon us. Blossoms are opening and birds are singing. Easter is only two weeks away. With Easter comes all that promise of resurrection – newness, energy, hope, growth and goodness – God's promise of life in all its fullness. Anything is possible by the grace of God. Everything is a gift. Let us celebrate.
At the same time I am aware of life rushing forward at break-neck speed. I have so much to do. So do you. The calendar pages flip past – fly past – zoom past – and soon it will be summer. We meet at a run and we pass each other with a quick check in and wave. I am reminded and am reminding you, to slow down and savor the moments. Notice the sunset. Taste the chocolate (or flavor of your choice). Take the time to talk with a loved one. Listen to God's Word. Look for God's gift each new day.
At church, if you need something, or if you see someone who needs something – don't let us just rush by, don't let me run past – let me know you need someone to slow down, to walk with you, to stop and help. It is easy to get caught up in our busy-ness and forget what is truly important. I learned early in my ministry that the "interruption" IS the ministry. The interruption is the presence of God and the opportunity for grace.
I have been here at First Presbyterian Church of Gardner for 17 months. Statistically in pastoral studies, there is a shift at 18 months. Perhaps it is the end of the "honeymoon" period. Perhaps it is sinking in to the normalcy of our relationship as pastor and congregation. For some it becomes awareness that they are in the wrong place. For me and fortunate others, it is the realization that I am home. For you, it might be awareness that you can trust. We are no longer in the sprint of beginning or the dance of getting to know one another, we have a relationship of depth and consequence. For that I am eternally grateful.
But it makes me wonder, what will this relationship become? How will we continue to grow in the years ahead? What will we accomplish together? At this time of changing seasons, we are looking ahead, planning, projecting, proposing, planting – new ways of being church together. It's an exciting time. It's a miraculous time. It's an important time. It is God's great time. Let us enter this season of hope with confidence in God's grace. Let us live our lives together to God's glory. Let us shine in such a way that others may see God's light and come to worship God here with us. May we serve God well and faithfully in the name of Jesus Christ.