Child care is provided each Sunday morning from 9 to 11 a.m. in a safe caring environment.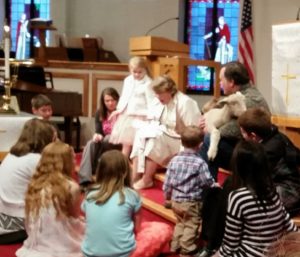 Children are always welcome in worship with their parents.  A children's time is offered most weeks during worship where the children are invited to join the pastor up front for a short conversation related to the worship experience.  Some children return to their seats after this time and stay with their parents for the whole worship service.  Other children leave the sanctuary after the children's time and go to the nursery.
Christian Education classes are offered each Sunday during the school year at 10 a.m. in three age groups for children. We are able to be flexible with age grouping to meet the needs of each child.  So speak to us about which group best fits your child, or if we can help accommodate special needs.
Early Education – A Preschool class and an early elementary class for children gather for stories and activities.  Caring leaders share their faith and encourage children to learn about Jesus.  Parents are always welcome.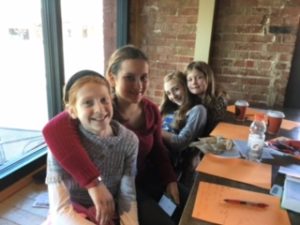 E.P.I.C – Experiencing Power In Christ – is our class for grades 5-8.  This group engages in Bible study, prayer, creative expression and appropriate conversation about what it means to follow Jesus.  The group also frequently participates in mission and social activities outside of Sunday mornings.  This is a friendly and lively young group.  Contact us for more information.
PYF – for older youth – a description is under the youth tab on this website.
Annually in June we offer a Traveling Day Camp for elementary age children supported by Heartland Camp and Conference Center of the Presbytery.  This is an outreach to the community – free and open to the public.  It is a remarkable week of adventure, growth, fun and deepening faith.  Volunteers are always welcome.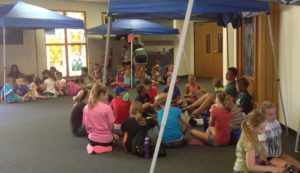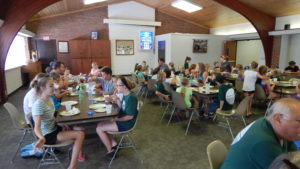 In December we join other local area churches for Christmas caroling at our area nursing and resident homes.  It's a great way to share a little holiday cheer and to get to know our fellow Christians in other churches in Gardner.  We always return to one of the churches for cookies and hot chocolate at the close of the event.
Other special activities arise during the year and we are always open to suggestions.  Let us know what ideas you would like to share.
TRAVELING DAY CAMP 2017  was another HUGE success!  Thank you to all leaders, helpers, volunteers and participants.
Traveling Day Camp June 18-22, 2018.  Save the date.  Registration will open in the Spring.
To register campers – Go to: http://www.heartlandcamps.org/traveling-day-camps/#forparents
When you register your child, remember to fill out the health form also. We do not charge any fees for day camp. We do have a limit on how many campers we can enroll.