Eastering – by Pastor Kimby Young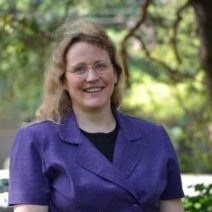 I read a sermon by a friend of mine this week with the title "Eastering" – changing the noun defining the day or season into a verb describing the action of the season. So what is the action of the season of Easter? I would say it is threefold: 1) Living with JOY, knowing that we are loved by God and freed to eternal life. 2) Putting your faith into action by sharing the love of God in ministries of care and compassion, in work for freedom and justice. 3) Telling the good news, sharing your faith in Jesus Christ with such positive energy and hope that others receive the grace of God that has already been poured out into us.
The season of Easter is 50 days – from now until Pentecost. During this season in worship, we will hear scripture passages of resurrection appearances of Jesus. We will be remembering the presence of our Risen Lord in a variety of ways. During Lent, we often add spiritual disciplines for working on our faith. During the season of Easter, it is less about "working" on your faith and more about letting your faith explode out into the world. "Eastering" is about "letting God go" in your life and seeing what miracles God can bring. The joy of resurrection, the energy of transformation, the awareness of God's presence with us in our Risen Lord Jesus Christ – all make this a season of action and impact. Accept the challenge of "Eastering" – to live with joy, to put your faith into action, and to tell the good news. Start "Eastering" right here and right now. See how God works in your life and in the world around you. Be a part of God's "Eastering" action in the world. Bring love, hope, life, light and joy to the world by the grace of God in Jesus Christ our Risen Lord.