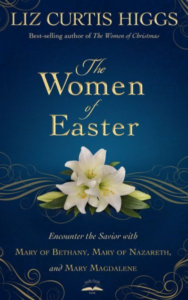 Come join the women of the church in our new study, The Women of Easter, by Liz Curtis Higgs.  Watch for the registration table and details in the Narthex beginning February 5, 2017. The study will consist of 6-8 weeks, beginning February 23, 2017.
Liz states:  My role models are women, my ministry is for women, and I've been teaching, speaking, and writing about our sisters in Scripture for three decades. Why? Because God loves women, calls and equips women, and honors women in His Word.
"The Lord announces the word, and the women who proclaim it are a mighty throng" (Psalm 68:11). 
Hope to see you at the study!