Celebration of Church by Pastor Kimby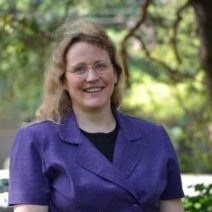 What a wonderful month August has been! Our parade entry and anniversary celebration were well planned and well executed. We had a lot of fun! People in Gardner were talking about the Presbyterians in positive ways. We got to see old friends and former staff members back to celebrate with us. We enjoyed remembering and some of us who are newer to the community learned a great deal about this congregation. Of course it wasn't perfect – but even the snafus led to volunteers jumping in to make things right. Thank you to everyone who participated in any way in our various activities. It was a roaring and remarkable success.
So what is next for First Presbyterian Church? September is "back to school" and so back to regular program schedule. Sunday School begins in two parts. On September 11, right after worship, we will hold a "Rally Day Reception" to honor our teachers and students. Continuing in the spirit of the anniversary celebration, we will remember some of the old fashioned Sunday School opening exercises and kick off activities. Then the children will head off to classes and the adults will do what we do best – share fellowship together. Two adult classes will begin on September 18 – the Pastor's Bible Study and the "Servants and Seekers" class. You can read about those elsewhere in this newsletter. There is plenty of room for new people in either class.
Beyond returning to the regular fall routine, now is a great time to look forward in hope. In his anniversary meditation, Jon Deily spoke about "Looking Back, Looking Around, and Looking Forward." Our challenge this fall is to begin looking around so that we can then look forward. We need to think about who we are now and who we are called to be, not just who we have been in the past. So we will be thinking about what we do well, so we can build on those successes. We will be thinking about what we don't do so well, so we can make changes and improvements. Session is beginning a formal long range planning process. So we need your help.
I am asking for your input and participation – not really in any formal way, though that may come from session or pillars in the months ahead. Contact me by phone or by email or by making an appointment to visit at the office or at your home or somewhere convenient for you. I will come to you, just call me. For now, I am asking for your opinions and observations. Look around, share what you have noticed about our church community – the good, the bad and the holy. And further, share what you would hope to see – what you believe God is calling us to be and to do. We are beginning to shape a plan of action and faithfulness for First Presbyterian Church, and we need you to make it happen. Share your opinions, and also share your gifts where you are able. This is your church. Do your part. Share your gifts. You are God's people in this time and place serving God as you are called here and now. Rejoice in all that God offers to us now and celebrate all that First Presbyterian Church can be to the glory of God.